Community Paramedicine at Home (CP@home):
Paramedic Services Delivery Model Expansion adapting the CP@clinic Program to an in-home visit: CP@home
CP@home includes all assessments and tolls of the CP@clinic Program. The paramedics:
conduct several evidence-based health assessments
provide referrals to primary care and community resources
assist participants in navigating the health care system
provide participants with tailored health education
engage participants in healthy lifestyle discussions
set health goals with participants
With consent, the participant's health assessment results are shared with their primary care provider. Paramedics will connect with any community resources to help facilitate participant referrals. Participants are encouraged to continue CP@home sessions to follow up regarding risk factors and program referrals.
Populations that will benefit from this adaptation include:
frail older adults
individuals referred by paramedics (including frequent callers)
individuals referred by hospital discharge planners at risk of readmission to hospital
individuals with limited mobility
individuals on a Long-Term Care Waitlist
individuals receiving remote patient monitoring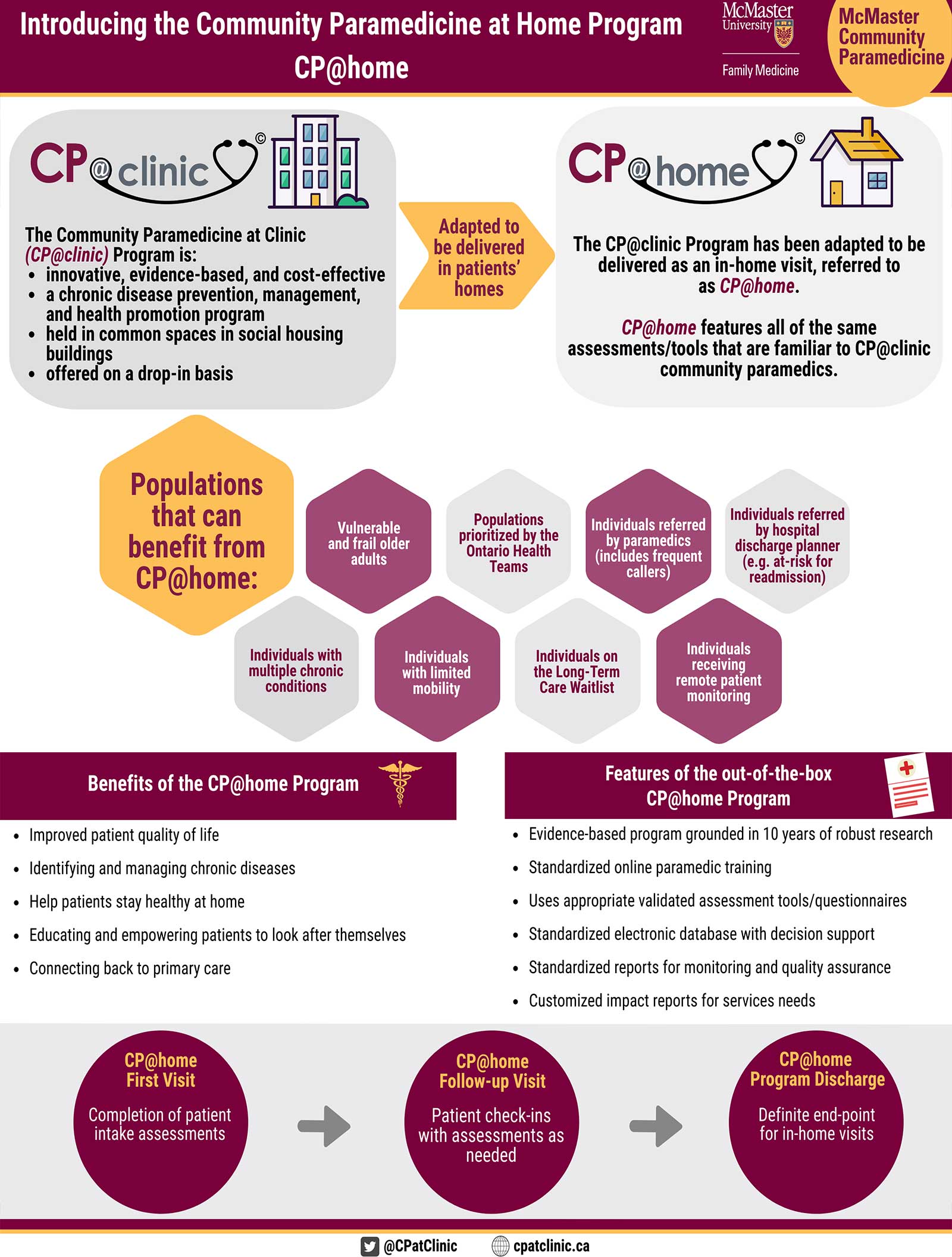 Older adults on the Long-Term Care waitlist or who have limited mobility are just some of the populations who can benefit from CP@clinic delivered as a home visit, also known as CP@home.
COVID 19 Pandemic and CP@clinic
CP@home is an adapted version of the CP@clinic program. Its implementation includes Virtual, home visit, and in-person program sessions/clinics in accordance with public health guidelines, guided by the advice of the CP@clinic Executive Committee and our CP@clinic partners, and based on the following principles:
The safety of Community Paramedics implementing the program and older adults participating in the program is paramount.
We will comply with mandates and recommendations from the government and our partners.
We recognize the evolving circumstances and are ready to adapt and respond quickly. Regular communication between the McMaster Community Paramedicine Research Team and its partners will help facilitate program adaptations to ensure safety and accommodate capacity.
To protect the vulnerable populations we work with, we will offer virtual program delivery options to reduce the risk for exposure to the COVID-19 virus and to provide equitable access to our program.
Especially during these unprecedented times, we are making it our mandate to provide equitable access to our program to all older adults connected to our CP@clinic program sites. Both existing and new CP@clinic participants are welcome.